Cape Classics Blog
August 16, 2011
Master Sommeliers Andrew McNamara and Melissa Monosoff discuss South African Chenin Blanc during a seminar at The Texas Sommelier Conference 2011. An informative and entertaining clip into the world of Chenin Blanc in South Africa.

August 12, 2011
August 9, 2011
WHY...Did May-Eliane de Lencquesaing (former owner of famous Chateau Pichon Longueville) purchase the Glenelly Estate in 2003?
WHY...After 30 years in the wine business in France would she decide to plant vines in South Africa? WHY Would an 'older' lady invest in this 'younger' democracy and start a new adventure?

BECAUSE...She believes in the soil, the micro climate and the potential for quality wines.
BECAUSE...She believes in continuing the French heritage of winemaking in South Africa (more than three centuries old!)
BECAUSE...She believes in this great country and its people, and wishes to play a part in its economic development.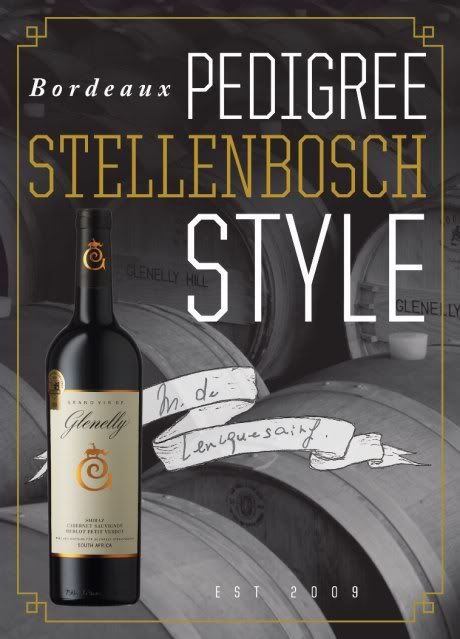 August 1, 2011
Hailing from the cool coastal region of Constantia, this crisp and zesty Sauvignon Blanc is a product of the historic estate Buitenverwachting - a property known for crafting some of the Cape's finest white wines!
Buitenverwachting Sauvignon Blanc 2010 displays aromas and flavors of green fig, gooseberry and lime. Grassy herbal notes are supported by elegant mineral undertones, and a touch of honey adds a ray of sunshine to this bottling. Very pleasant and balanced, it partners well with summer favorites including grilled chicken, pan-seared fish and light salads drizzled in lemon.
Fuller bodied than your typical Sauvignon Blanc, this sensational sipper will intrigue your palate and impress your guests, for only $14.99 SRP. A steal if you asked us!