Cape Classics Blog
July 14, 2014
Today, and every 14th of July, France celebrates its liberty. Known as Bastille Day, this national holiday commemorates the storming of the Bastille fortress in Paris on July 14, 1789, marking the beginning of the French Revolution. Although we (Americans) recently celebrated our day of independence, we're continuing the festivities and embracing the French's holiday with open arms. This marks Cape Classics first Bastille Day representing wines from France, and in honor we are taking part by enjoying a few of France's finest wines. Join us in celebrating the country famous for its rich culture of wine, cuisine, literature, history, and art. Here's to you France, à votre santé!
Paul Buisse Touraine Sauvignon - Floral and peach aromatics lead to a bright yet delicate palate that is fruit forward with zesty acidity. Ideal for appetizers, this crisp, fresh Sauvignon Blanc is the perfect wine to open your palate, serving as a great match for soft cheese —particularly goat cheese which is a specialty of the Loire region—summertime salads, shellfish and seafood.
Domaine Vincent Carême Le Clos Vouvray - This Chenin Blanc offers alluring aromatics with hints of apricot and truffles that lead to a luxurious, well structured, full palate. Notes of honeysuckle and cream round out the endless, lingering finish.
Clos du Gaimont Vouvray La Monaco Demi-Sec - Aromas of ripe peach, apricot and acacia lead to a medium sweet palate that is rich and concentrated, achieving a brilliant balance between sweetness and acidity. Serve this Chenin Blanc chilled and enjoy with seafood and grilled meat.
Domaine Grosbois Chinon 'La Cuisine de ma mère' - La Cuisine de ma mère, which translates to "my mother's kitchen," is the perfect complement to any dinner table. Fresh and approachable, this food-friendly, everyday wine embodies the soul of Chinon. Ripe flavors of violet, dark berries and chestnut with hints of earth merge together in this Cabernet Franc.
July 1, 2014
June of 2014 saw the introduction Le Roi des Pierres wines by Cape Classics. From the Loire Valley region of France, the brand is currently comprised of two varietals produced in the commune of Sancerre, a Sauvignon Blanc and Pinot Noir-based Rosé. Translated as "King of Stones" the name Le Roi des Pierres pays homage to the Loire Valley's royal history and unique terroir.
From the 10th century onwards, kings and queens have called the Loire Valley home. The brand name also ties in silex's designation as "the king of all stones." There are three soil types found in Sancerre, terres blanches, caillottes, and silex - Le Roi des Pierre's Sancerre is crafted from silex, the rarest of the three, representing only 15% of the soil. Silex is composed of flint over a clay and limestone base and has proven to produce distinctive wines with an extraordinary ability to age. Le Roi des Pierres Sancerre Rosé, 100% Pinot Noir, stems from chalky, clay soils, a combination of terres blanches and caillottes terroir.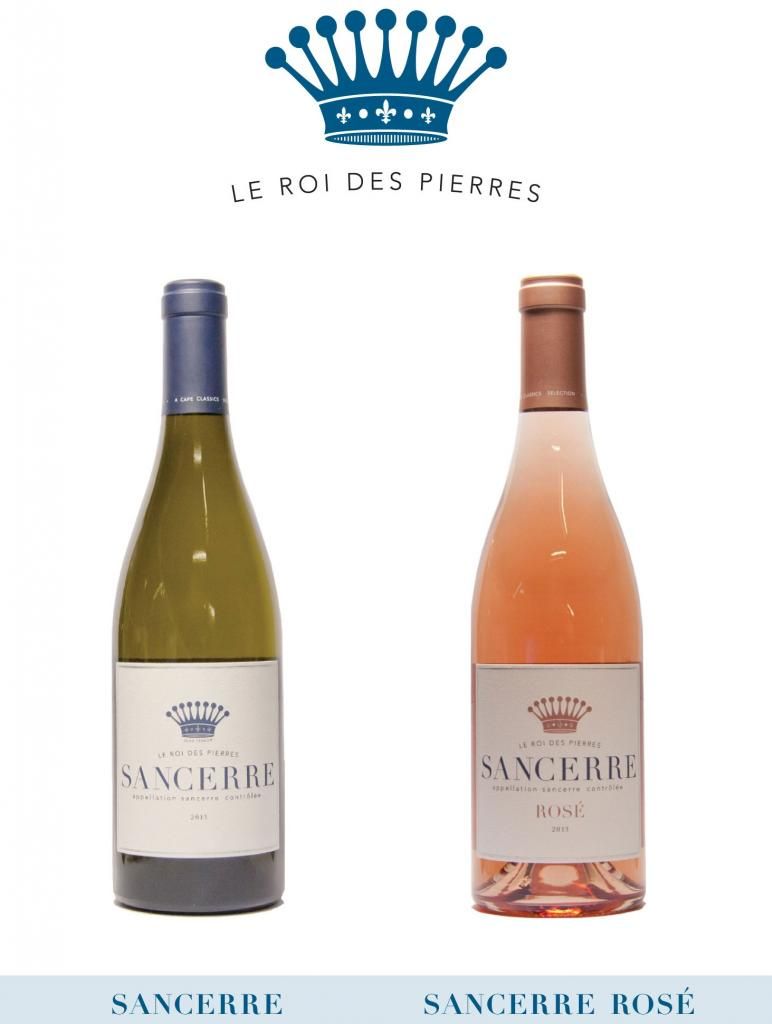 Le Roi des Pierres Sancerre - Intense aromas of grapefruit and tropical fruit on the nose guide to a mouth feel that is both round and velvety. This powerful, smooth and fleshy wine is balanced by the natural acidity of the silex soils. Grapefruit and lychee notes back the long, luxurious finish.
Le Roi des Pierres Sancerre Rosé - Showcasing a lovely salmon color, this rosé displays intense notes of red berries, yellow peach and plum. The palate offers an exquisite balance of red fruits and a very elegant thread of minerality on the finish, making this wine a fresh and versatile match for an array of seasonal selections.