Cape Classics Blog
July 19, 2012
Situated on the high slopes of Helshoogte Pass ("hell's heights"), Bartinney overlooks the picturesque Banghoek Valley in Stellenbosch. The estate was established in 1920 by a retired director of Harrod's, the famed London department store, who described it as "the most beautiful valley on Earth." Today, current proprietors Michael Jordaan and his wife, Rose, are passionate about crafting quality bottlings that are a true reflection of Bartinney's extreme terroir. With the hands of seasoned winemaker Ronell Wiid, the estate's Chardonnay and Cabernet Sauvignon are elegant, balanced, and an expression of the land they hail.
 Bartinney 2010 Chardonnay - This elegant Chardonnay displays a bouquet of apricot blossom and lemon with a delicate vanilla nuance. The intense yet soft and refined palate shows a prominent pineapple, citrus and ripe pear character, interlaced with chalky acidity and hints of toasted hazelnut.
 Bartinney 2009 Cabernet Sauvignon - This vibrant Cabernet displays aromas of plum and cassis with a subtle hint of mint. Luscious blackberry and cassis flavors are complemented by notes of dark chocolate, coffee and cedar, backed by refined tannins. 91 points, Wine Spectator.
 Committed to conservation and sustainable farming, Bartinney was awarded Biodiversity & Wine Initiative (BWI) Champion status. BWI is a ground-breaking partnership between the South African wine industry and the conservation sector that aims to preserve the rich biodiversity of the Cape Floral Kingdom. Bartinney is one of only 21 farms to achieve Champion status, committing more than 10% of their farm to conservation. Bartinney is also one of few South African wineries awarded Carbon Neutral status by Global Carbon Exchange, an environmental sustainability consultancy.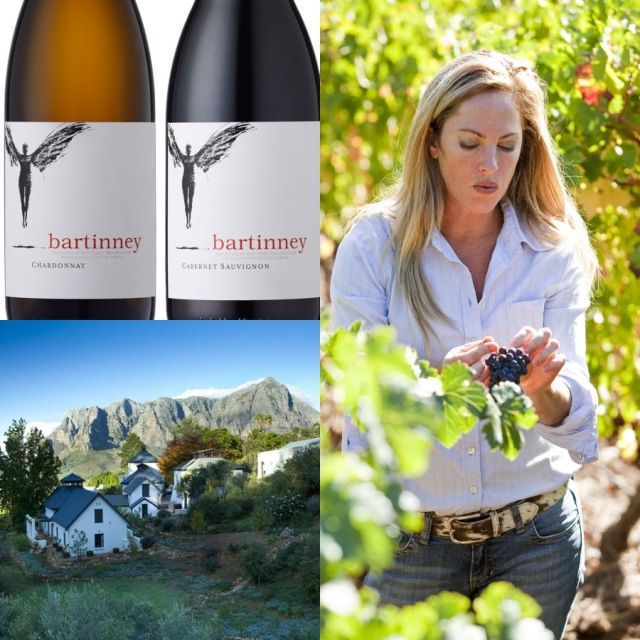 Bartinney Chardonnay and Cabernet labels, proprietor Rose Jordaan, and view of estate.
July 10, 2012
Scenario: You're heading off the beach, finishing a whiffle ball game, or pulling in the driveway after a long day of work. The summer sun is still shining strong, and you want to take in all the season has to offer, but you're drained and drooling for a refreshing cocktail!
Let us present you with a glass of this simple and cooling sangria. Indaba Chardonnay Sangria is so easy, breezy you'll be wonder why you don't have a pitcher of this in your fridge all season long.
Best enjoyed while kicking back. You're welcome.