Cape Classics Blog
March 21, 2012
In honor of 1WineDude's #WBW75 we bring your Thelema "The Mint" Cabernet Sauvignon 2009. Now, you may be wondering what this 'mint' reference implies. "The Mint" Cabernet hails from a single vineyard block that is lined with eucalyptus trees. It is believed that the eucalyptus oils blow onto the grapes which impart a distinct, fresh, minty character to the wine. It's a natural herbaceous flavor that adds a lovely dimension.
More about the estate. Thelema's vineyards are located on primarily south-facing slopes of the Simonsberg in Stellenbosch, South Africa. Elevations of 370 to 640 meters above sea level make the estate one of the coolest and highest wine farms in the area. This particular single vineyard is located near the estate's entrance, planted in 1985 in soils of red Hutton – a form of decomposed granite.
The 2009 was an outstanding vintage – one of the best the Cape has ever seen, with idyllic warm, dry conditions during ripening. In 2008, Cabernet Sauvignon was harvested later than usual, so the berries for 2009 were slightly smaller than average which translated into wines of intense, concentrated flavors.
Thelema "The Mint" Cabernet Sauvignon has received five consecutive 90+ ratings from Wine Spectator. This 2009 is bold and intense, yet remarkably pure and fresh. It boasts concentrated aromas and flavors of cassis, plum, mocha and dark chocolate, accented by complex expressions of mint, tobacco and eucalyptus.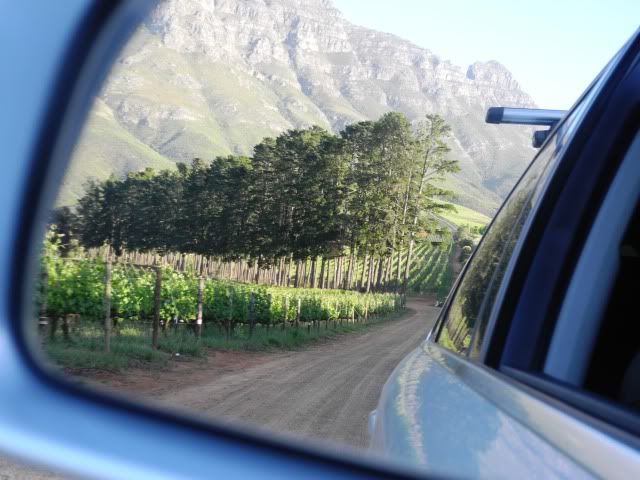 Thelema "The Mint" Cabernet Sauvignon single vineyard block lined by eucalyptus trees.
March 16, 2012
Join Winemaker Bruwer Raats of Raats Family Wines high up in his Chenin Blanc vineyards in beautiful Stellenbosch, South Africa. Hear about harvest 2012 and what makes the Old Vine Chenin Blanc so special.