Cape Classics Blog
December 17, 2013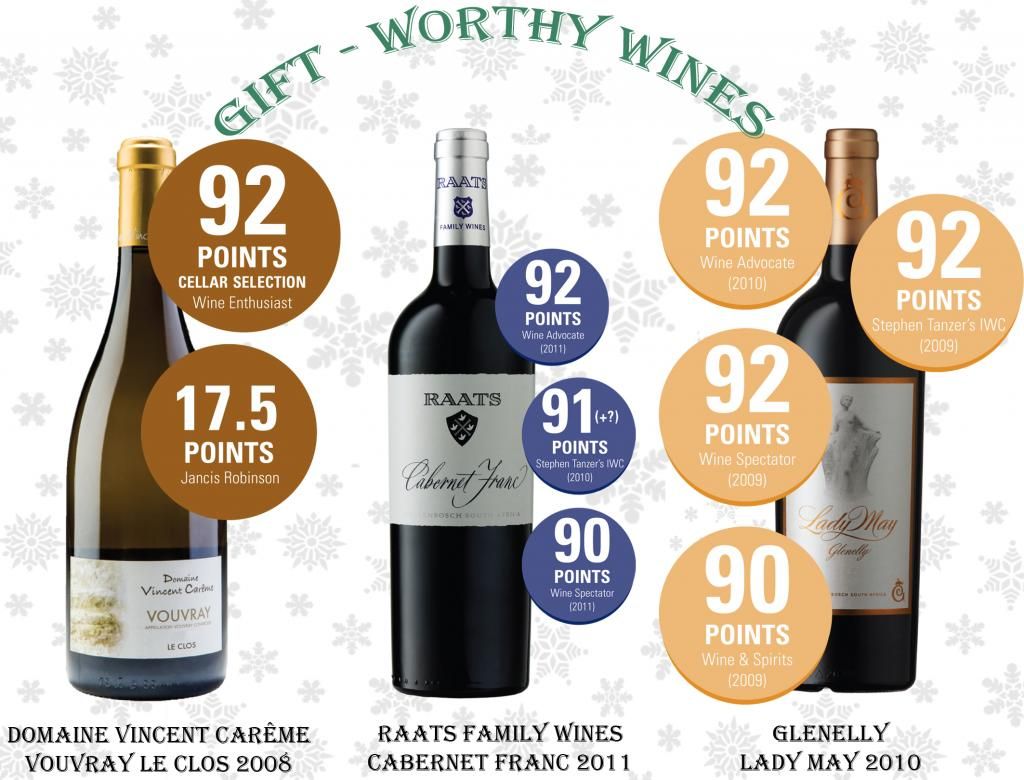 Domaine Vincent Carême Vouvray Le Clos 2008 - Alluring aromatics offer hints of apricot and truffles that lead to a luxurious, well structured, full palate. Notes of honeysuckle and cream round out the endless, lingering finish. ($39.99 SRP)
Raats Family Wines Cabernet Franc 2011- This sexy, über-elegant Cabernet Franc shows the stunning heights this grape can attain! It combines a core of luscious red fruit and black cherry, with expressive herbal notes and hints of dark chocolate, licorice, tobacco and spice. Soft, silky tannins caress the palate, and a complex mineral character lingers on the long, supple finish. ($34.99)
Glenelly Lady May 2010- 90% Cabernet Sauvignon, 10% Petit Verdot. Lady May is Glenelly's Flagship Estate wine, named for proprietor May-Eliane de Lencquesaing. Elegant and complex, this Bordeaux inspired red displays velvety tannins and lush fruit, perfectly balanced by fresh acidity. A true reflection of the Glenelly terroir, it flaunts bright flavors of blackcurrant, raspberry and blackberry, tinged with delicate floral, herbal and spice notes. ($49.99)
December 9, 2013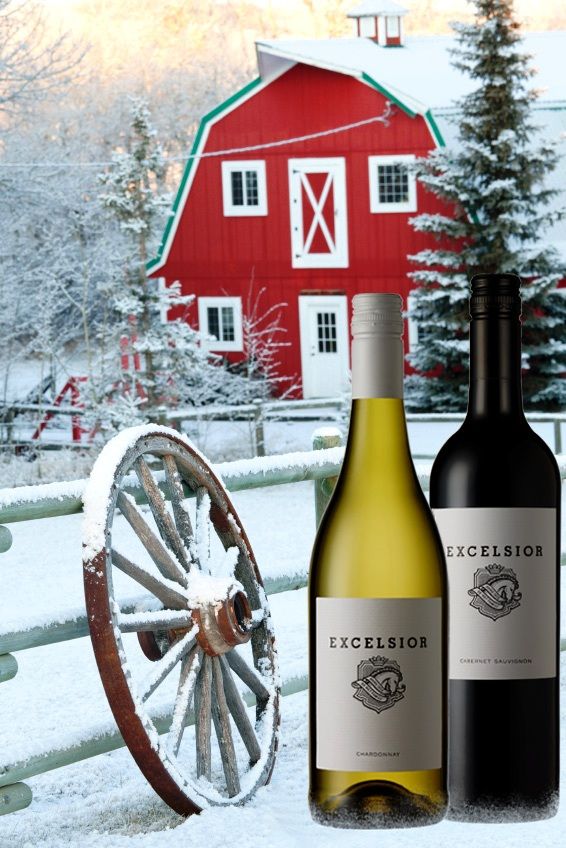 Perfect for holiday entertaining, these thoroughbred wines have a longstanding track record for quality & value. Excelsior Wine Estate has consistently received "Best Buy" accolades and praise from press. As Robert Parker's Wine Advocate recently noted, the estate "represents another of those South African instances where one wonders how the wines can possibly be well-made, distinctively- packaged, exported to the States, and still sell for a mere ten dollars."

In addition to producing a series of delicious and approachable value wines, Excelsior has a long history of horse breeding. In the days before the advent of the automobile, the farm was known as a source of the finest hackney carriage horses. The owners, De Wet family, eventually turned from hackneys to championship thoroughbred racehorses, and Excelsior quickly established a reputation as one of South Africa's most distinguished stud farms. The estate's horse breeding tradition is reflected in the equine theme on the Excelsior labels.
December 6, 2013
De Toren Private Cellar is "a little piece of heaven" -as proprietor Emil den Dulk calls it- in the Polkadraai Hills area of Stellenbosch. Setting out to carve a niche, De Toren crafted South Africa's first five-varietal Bordeaux blend, the now legendary Fusion V.
Winemaker Albie Koch has been at De Toren from the beginning. His maiden 1999 vintage of Fusion V took the international wine world by storm, garnering great critical acclaim and instantly becoming one of the Cape's most sought-after bottlings. De Toren "Z" was introduced later and has subsequently earned its own share of accolades. This Merlot-based  blend provides the complement to the Cabernet-dominant flagship.
Vineyard fact: The winery is operated completely on gravity flow principles; exploiting gravity in transporting wine between tanks and barrels to abstain from the use of harsh mechanical pumps.