Cape Classics Blog
November 20, 2014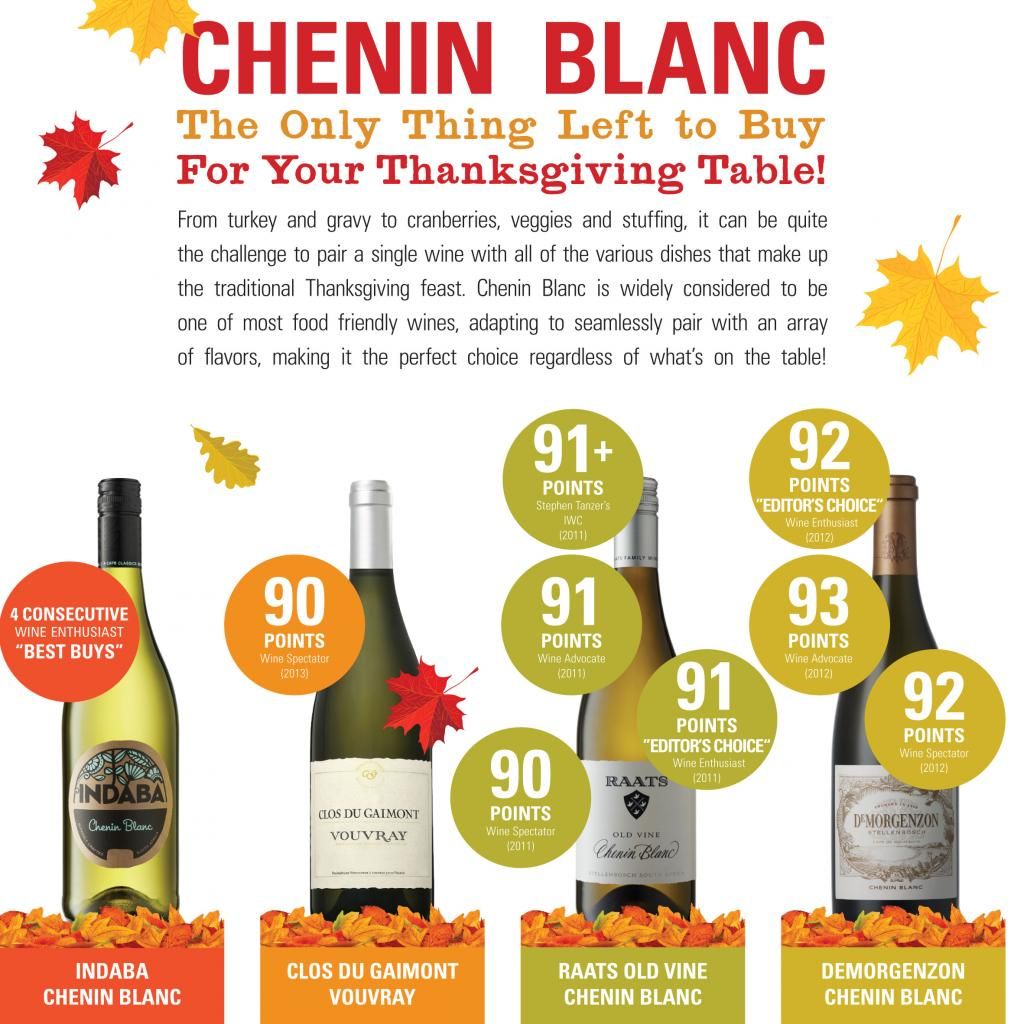 From turkey and gravy to cranberries, veggies and stuffing, it can be quite the challenge to pair a single wine with all of the various dishes that make up the traditional Thanksgiving feast. Chenin Blanc is widely considered to be one of most food friendly wines, adapting to seamlessly pair with an array of flavors, making it the perfect choice regardless of what's on the table!
Indaba Chenin Blanc - Chenin Blanc is South Africa's most widely planted varietal and the Cape's signature white. This fresh, easy-drinking version offers vibrant flavors of honeyed pear, golden delicious apple and luscious tropical fruit.
Clos du Gaimont Vouvray - Straw yellow in color, the nose unveils typical Chenin Blanc characteristics— floral aromas that are reminiscent of acacias with hints of dried fruit. Crisp notes of green apple and citrus fruit are supported by a mineral edge that leads to a rich, concentrated and well balanced, dry palate. Serve chilled and enjoy with appetizers, seafood and poultry!
Raats Old VIne Chenin Blanc - This transcendent bottling from Chenin master Bruwer Raats sets the standard for South African Chenin Blanc. Rich and intense, Old Vine Chenin Blanc is a profound wine that strikes a perfect balance between elegance and power. It offers luscious flavors of honeyed pear, fig and citrus fruit, with an intense, mouthwatering minerality. Appealing notes of ginger and spice carry through on the lengthy finish.
DeMorgenzon Chenin Blanc - This show stopping white displays effusive aromas of white flower, stone fruit, honey and toast which erupt into opulent flavors of pear, orange blossom, caramel and spice. It's a world class offering that strikes a brilliant balance between lush fruit and crisp, mouthwatering acidity.
October 17, 2014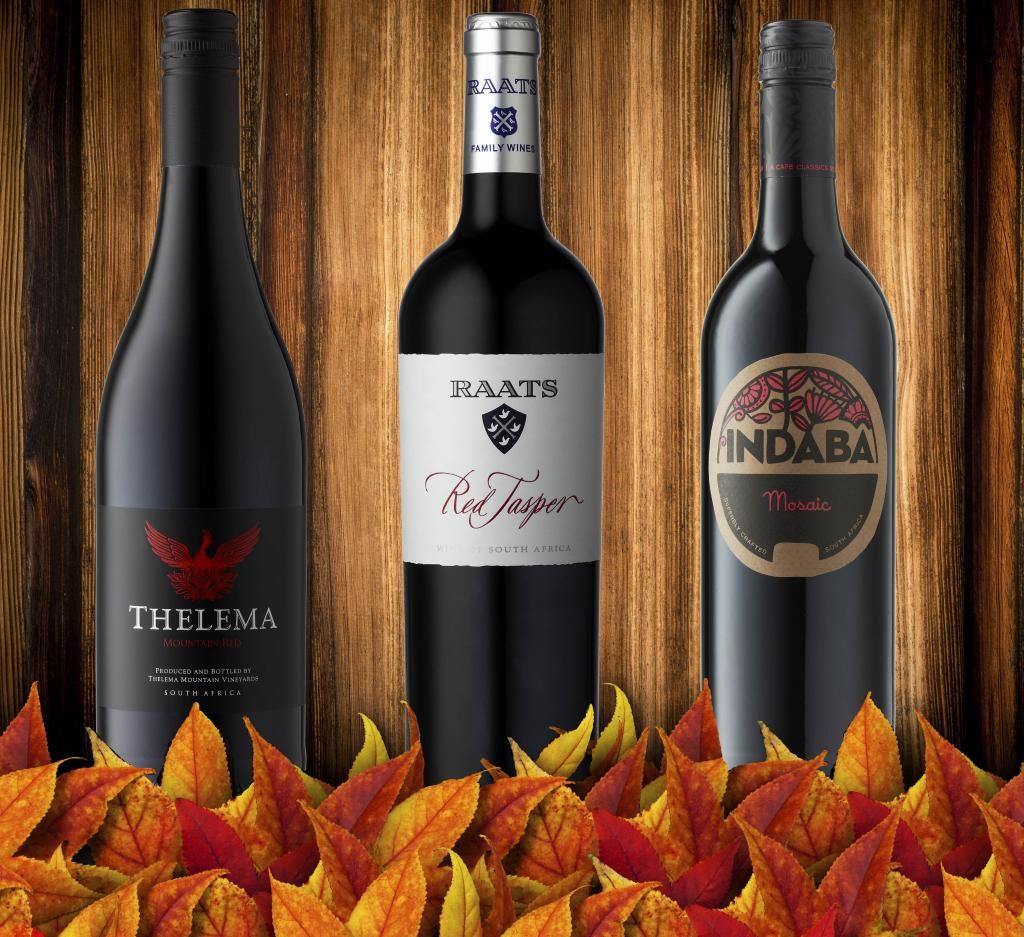 Red blends are hot, hot, hot! As the weather cools, barbecues smoke, and heartier dishes hit the table, there's no better time of year to explore the infinite options of red blends that fill store shelves. From Cab-based to Pinotage-dominated, and everything in between, there's a lot of fun to be had sampling traditional and unique blends. Finding a favorite doesn't have to cost a pretty penny however, a number of rock star bottlings exist for under $20 that are crafted exceptionally well and will leave you wondering how your really only paid $15. Here are a few to get you started:
Thelema Mountain Red - Mountain Red offers Thelema's famed pedigree at a fraction of the price. From the Stellenbosch region of South Africa, this Shiraz, Petit Verdot and Cabernet Sauivgnon driven red is approachable and easy-drinking with juicy cassis and brambly fruit flavors. Touches of Merlot and Grenache round out the body while Cabernet Franc adds an accent of white pepper and spice. Best enjoyed fireside.
Raats Red Jasper - This complex Cabernet Franc-driven blend shows dark berry fruit on the nose, along with the perfume of violets one would expect from an 85% Cabernet Franc wine - and varietal expert Bruwer Raats, winemaker for Raats Family Wines in Stellenbosch. Hints of tobacco and dark chocolate add an illusive depth while silky tannins caress the palate. A lovely minerality shines through on the long finish. This is your autumn date night wine.
Indaba Mosaic - From the Western Cape of South Africa, this Cabernet Sauvignon-dominated Bordeaux blend offers enticing aromas and succulent flavors of blackcurrant, ripe berry fruit and dark chocolate, while smaller amounts of Petit Verdot, Malbec, Merlot, Cabernet Franc add alluring spice notes. A wine that appeals to a wide range of palates, it makes for the perfect party red.
October 3, 2014
Excelsior Estate is an intriguing blend of vineyards and horses. The fourth and fifth generations of the De Wet family currently farm the land of their ancestors and continue an equine tradition dating back over a century. The estate turns out several full-bodied, fruity whites and lush, supple reds, and gives tribute to its horse-breeding origins with an equine-themed label.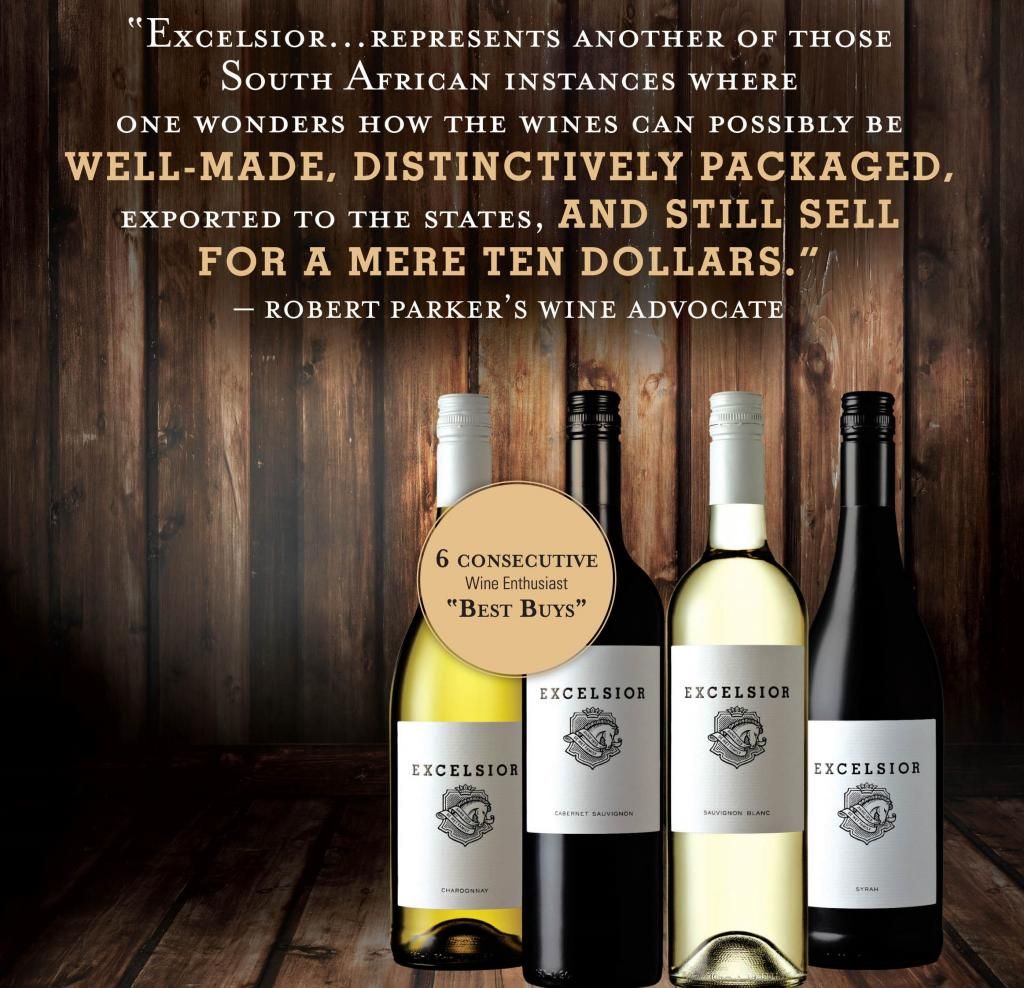 September 1, 2014
With a reputation for producing some of the Cape's finest red wines, the heralded Kanonkop Wine Estate is often referred to as a South African "First Growth." The fourth generation family farm, run by brothers Johann and Paul Krige, has been owned and operated by the Sauer-Krige family since the early 1930s.
This tasty Cape blend from South Africa's premier Pinotage producer displays ripe, juicy flavors of dark berry, coffee and plum interlaced with pleasant herbal and spice notes. A distinctive smoky, tarry character makes this supple, full-bodied red the ultimate grilling/tailgate wine. Time to dive into the ribs, skip the beer, and wash down finger-lickin' good barbecue with Kanonkop Kadette.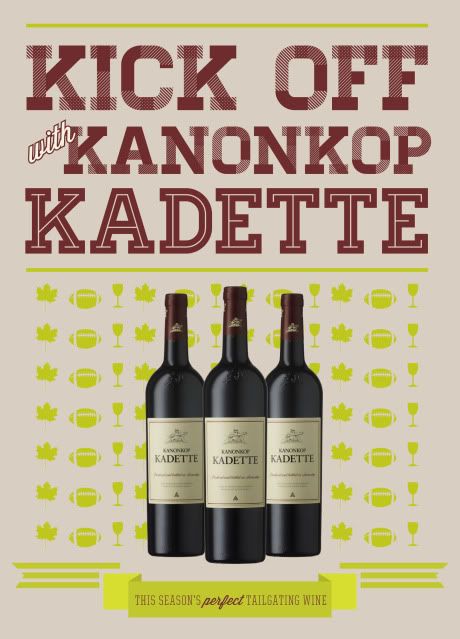 August 4, 2014
Contemplating what to serve for a 'feast from the sea' dinner party? Or what to sip while enjoying a seafood smorgasbord out? It can be mind-boggling pinpointing one bottling that will enhance your seafood of choice, while at the same time running the gamut of options available at the table. Here we offer a few of our favorite seafood and wine pairings for inspiration, identifying wines that not only enhance the select dish, but also work wonders with a medley.
Oysters - From East Coast to West Coast, oysters are a popular delicacy most often enjoyed raw. Small or large, briny or sweet, oysters offer unique profiles and flavors based on appellation - just as wines are unique to terroir. After slurping down this meaty mollusk, refresh your palate with a glass of
Beyond Sauvignon Blanc
. From the Constantia region of South Africa, Beyond is an ideal sipper with oysters from sea to sea. Crafted by Sauvignon specialist Buitenverwachting, Beyond is approachable yet refined, offering melon, gooseberry and herbal notes. Plus, it's a tremendous value, saving you dollars to splurge arrays of oysters.
Spicy Tuna Roll - Bring on the heat, serve up the Chenin! Ease the spiciness from wasabi and sriracha with Raats Original Chenin Blanc. Crafted without the use of any oak in order to preserve the wine's "original" character, Raats is packed with vibrant stone fruit flavors and subtle notes of ginger and orange blossom that are fitting for Japanese cuisine. The wine's tangy minerality adds a pleasing element to often bland rice.
Lobster - The dense yet delicate meatiness of steamed lobster with drawn butter begs for an opulent white wine that is well-rounded. Glenelly Grand Vin Chardonnay is our go-to as it has complex aromas of marmalade and melon, with hints of toasted almond and vanilla from soft oak aging. Its minerality cuts through the meat and dipping butter, while its creamy texture doesn't wash away the subtle taste of ocean water, but dances nicely together on the palate.

July 14, 2014
Today, and every 14th of July, France celebrates its liberty. Known as Bastille Day, this national holiday commemorates the storming of the Bastille fortress in Paris on July 14, 1789, marking the beginning of the French Revolution. Although we (Americans) recently celebrated our day of independence, we're continuing the festivities and embracing the French's holiday with open arms. This marks Cape Classics first Bastille Day representing wines from France, and in honor we are taking part by enjoying a few of France's finest wines. Join us in celebrating the country famous for its rich culture of wine, cuisine, literature, history, and art. Here's to you France, à votre santé!
Paul Buisse Touraine Sauvignon - Floral and peach aromatics lead to a bright yet delicate palate that is fruit forward with zesty acidity. Ideal for appetizers, this crisp, fresh Sauvignon Blanc is the perfect wine to open your palate, serving as a great match for soft cheese —particularly goat cheese which is a specialty of the Loire region—summertime salads, shellfish and seafood.
Domaine Vincent Carême Le Clos Vouvray - This Chenin Blanc offers alluring aromatics with hints of apricot and truffles that lead to a luxurious, well structured, full palate. Notes of honeysuckle and cream round out the endless, lingering finish.
Clos du Gaimont Vouvray La Monaco Demi-Sec - Aromas of ripe peach, apricot and acacia lead to a medium sweet palate that is rich and concentrated, achieving a brilliant balance between sweetness and acidity. Serve this Chenin Blanc chilled and enjoy with seafood and grilled meat.
Domaine Grosbois Chinon 'La Cuisine de ma mère' - La Cuisine de ma mère, which translates to "my mother's kitchen," is the perfect complement to any dinner table. Fresh and approachable, this food-friendly, everyday wine embodies the soul of Chinon. Ripe flavors of violet, dark berries and chestnut with hints of earth merge together in this Cabernet Franc.
July 1, 2014
June of 2014 saw the introduction Le Roi des Pierres wines by Cape Classics. From the Loire Valley region of France, the brand is currently comprised of two varietals produced in the commune of Sancerre, a Sauvignon Blanc and Pinot Noir-based Rosé. Translated as "King of Stones" the name Le Roi des Pierres pays homage to the Loire Valley's royal history and unique terroir.
From the 10th century onwards, kings and queens have called the Loire Valley home. The brand name also ties in silex's designation as "the king of all stones." There are three soil types found in Sancerre, terres blanches, caillottes, and silex - Le Roi des Pierre's Sancerre is crafted from silex, the rarest of the three, representing only 15% of the soil. Silex is composed of flint over a clay and limestone base and has proven to produce distinctive wines with an extraordinary ability to age. Le Roi des Pierres Sancerre Rosé, 100% Pinot Noir, stems from chalky, clay soils, a combination of terres blanches and caillottes terroir.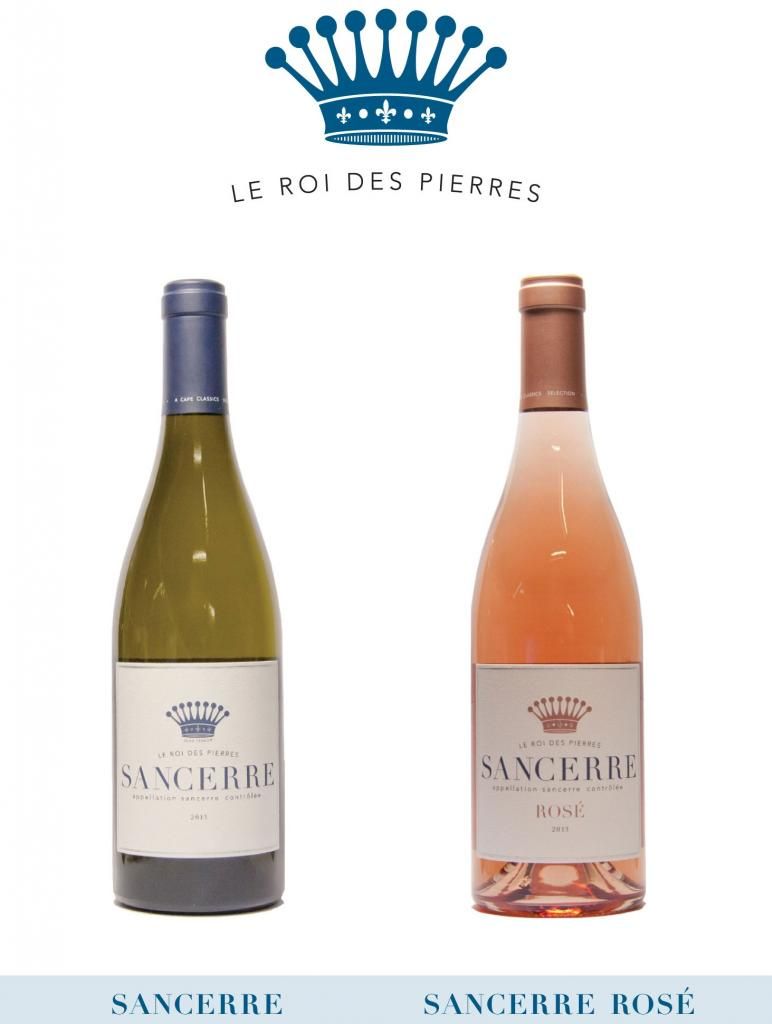 Le Roi des Pierres Sancerre - Intense aromas of grapefruit and tropical fruit on the nose guide to a mouth feel that is both round and velvety. This powerful, smooth and fleshy wine is balanced by the natural acidity of the silex soils. Grapefruit and lychee notes back the long, luxurious finish.
Le Roi des Pierres Sancerre Rosé - Showcasing a lovely salmon color, this rosé displays intense notes of red berries, yellow peach and plum. The palate offers an exquisite balance of red fruits and a very elegant thread of minerality on the finish, making this wine a fresh and versatile match for an array of seasonal selections.
April 17, 2014
Clos du Gaimont is a parcel of the esteemed Clos de Nouys vineyard, situated on a plot of premium land in the heart of Vouvray. Winemaker François Chainier purchased Clos du Gaimont's vineyards in 1997 and has become a pioneer in sustainable farming, being the first to employ green practices in the area. Vineyards are maintained according to a sustainable agriculture philosophy, keeping the overall ecosystem in mind. The Chenin Blanc grapes are hand harvested with great care taken from vine to cellar.
Fun Fact: A 'clos' is an 'enclosed vineyard', referring to a wall that now, or at one time, surrounded vines. While most of Clos du Gaimont's original wall has fallen down, a small section still borders the vineyard.
April 11, 2014
Welcome the long anticipated warmer temperatures with the 2013 DMZ Cabernet Rosé, fresh from the vineyards and the perfect complement for your spring and summer soirees! Crafted by the legendary DeMorgenzon estate, this Cabernet is a versatile food wine with the elegance to pair with "typical" rosé fare and the body and structure to stand up to heartier dishes, making it a true crowd pleaser. DMZ Cabernet Rosé displays alluring aromas and juicy flavors of pomegranate, watermelon and strawberries, accented with delicate floral and spice hints.
April 7, 2014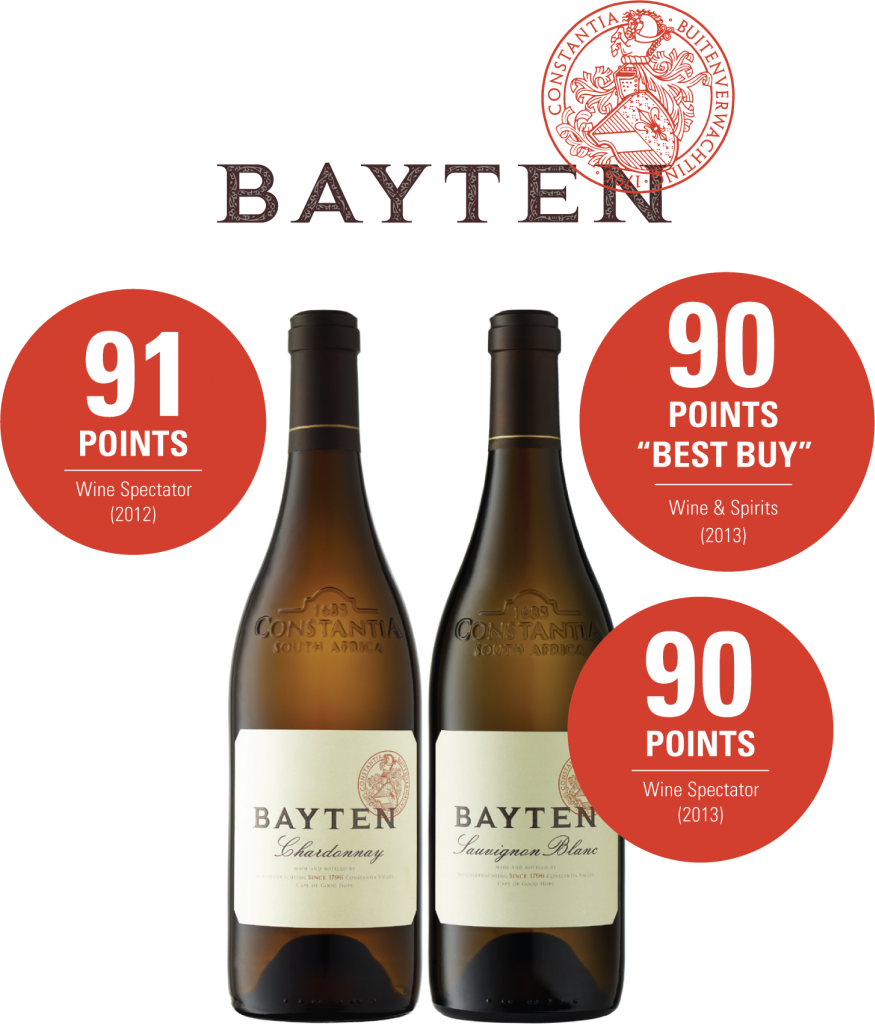 One of South Africa's premier wine farms, the beautiful Bayten estate (aka Buitenverwachting) is nestled on the base of the magnificent Constantiaberg mountain, just south of Cape Town and a few short miles from False Bay. Breezes sweeping in from False Bay, make it one of South Africa's coolest winegrowing areas, renowned for elegant white wines that possess an intense minerality.
Constantia is one of the few wine-growing areas in South Africa which does not need to rely on irrigation, thanks to significant winter rainfall. Bayten's vineyards are planted on a variety of ancient decomposed granite soils and farmed embracing a variety of holistic farming practices. From racy Sauvignon Blancs to elegant Meursault-like Chardonnays, cellar master Hermann Kirschbaum and winemaker Brad Paton continue to craft stunning wines that deliver on the promise to exhilarate the senses.
Fun fact: Bayten was part of the original Constantia estate founded in 1685 by Simon van der Stel, the first governor of the Cape.